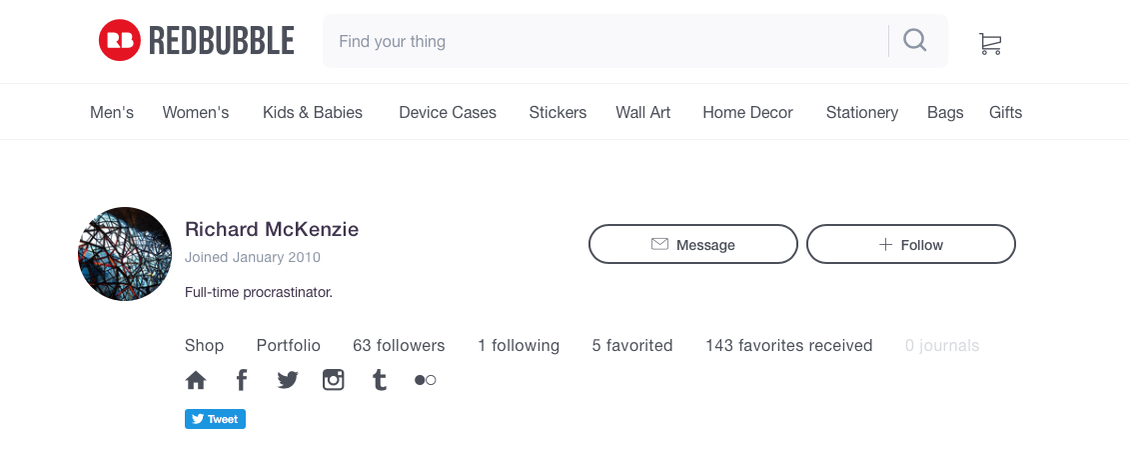 Hi Redbubble,
We need to talk. I have been a long-time user and advocate of Redbubble's work. I've always been delighted with the quality and range of products as both a customer and artist. I've submitted entries for competitions and residencies and generally felt very positive about the company.
But that was then. This is now.
Now your platform is prey to trolling IP bots and you take down artists' original work without an ounce of resistance. I know I know, you're only doing what's needed to preserve your company, but I wonder who it's really benefiting. Certainly not the artists.
The works of mine the IP troll requested be taken down did not violate their rights. At all. I don't make a living out of my Redbubble earnings, but it's nice pocket money. Fortunately for me, it's money I can do without.
I am therefore deleting my Redbubble account. It's clear where your company's priorities lie and, as a publicly listed company I completely understand. Protecting IP is a delicate balancing act. But Redbubble's particular balance on IP issues now makes your platform a poor fit for certain creators like me. Selling my own works on my own site is much more effort and offers far fewer products, but at least I know I won't wake up one day and find my works inexplicably deleted.
And I am not the only Redbubbler who feels this way.
Wishing Redbubble all the best for its future.
Sincerely
Richard McKenzie
(soon to be formerly) dicko101.redbubble.com
P.S. Why oh why do you have to be one of those companies without ANY contact email addresses on your website? Such annoy.