Anyone who's bought a new camera over the past fifteen years can tell you how far digital photography has come. From a clunky 3.1 megapixel 'compact' ($2,000+ back in the day), to the unobtanium that was a 128mb SmartMedia card ($270; 'never run out of space again!'), photography has reached a point where the gear almost doesn't matter at all. If you miss a shot with your 425 autofocus points, 3D matrix metering and 42.5 megapixels, that's on you, crappy photographer.
I was recently reunited with a piece of kit I'd not used in a long time…a long time: a video camera! But not just any video camera, the first consumer 'full' high-definition camcorder, the HDR-FX1E. It's a camera that helped drive my creativity and love for the still and moving image. But today it's a relic. It sold for $6,000 back in the day, but is barely worth a tenth of that today. Its tape-based capture technology has long since passed into (solid state) memory and, as trite as it is to point it out, a mid-range mobile phone takes better video than this thing did.
It got me thinking — sure, still photography has come a long way, but hasn't video come further?
In which I am an Earnest Young Filmmaker
Pulling the camera out of its Pelican case for the first time in years brought back all the (linear tape-based) memories of when I bought it way back in 2005. Ah, 2005: my final year of school. This cutting-edge camera was going to be the tool to create my artistic vision in Studio Arts and become my entry into the glamorous world of filmmaking.
The first part of that plan went well. I used the camera extensively for my VCE Studio Arts class and achieved a perfect study score of 50 for it. You know how they say VCE results don't matter? Well this one did, and I have the certificate to prove it (I imagine this is how those who were good at sport at school and won a trophy by kicking the ball through the poles in the final second of gameplay time to win the match feel looking back on their accomplishments).
The second part, well, I'm not making a living out of making films, so that bit didn't happen, but I enjoyed studying film and making films and doing some paid gigs with this camera on the side. But that I haven't used it for the past seven years is a mark of how much a) my creative passions have shifted, and b) how far digital video has come.
INTRODUCING THE WORLD'S FIRST* HIGH-DEFINITION© CONSUMER** CAMCORDER† WHICH IS AVAILABLE IN BLACK‡ AND BLACK ONLY!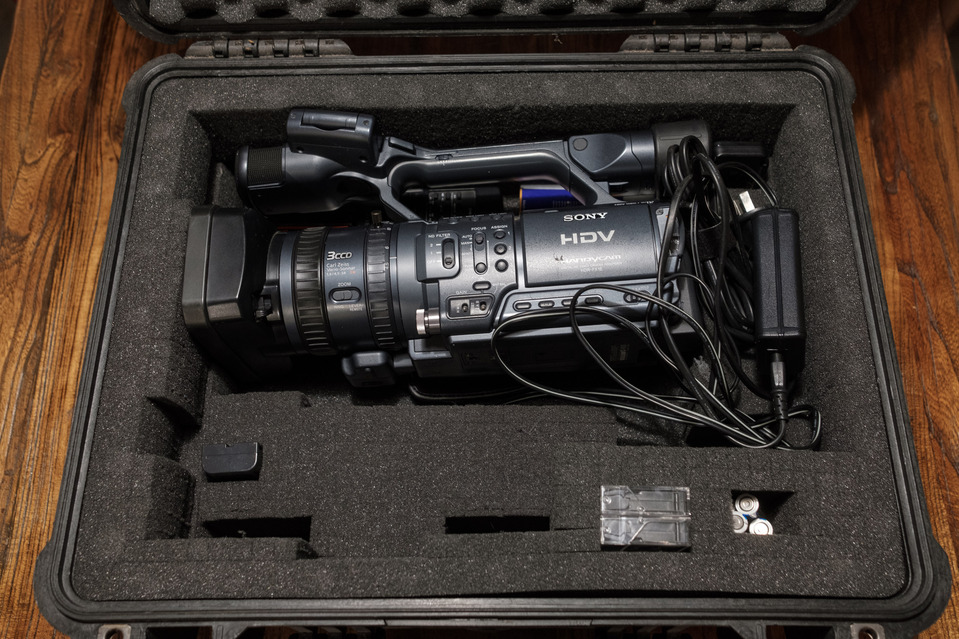 The HDR-FX1E (the 'E' denoted PAL models because 'E'urope was PAL) was marketed by Sony as the 'world's first* HDV1080i consumer level camcorder'. There are so many qualifiers there that it's worth unpacking.
HDV was the video format developed to allow the recording of HD video onto the extant DV cassette tape. JVC initially developed the format and released the true 'first' HDV camcorder, the GR-HD1, however this only recorded 720p and was technically handicapped in other ways which prevented professional adoption.
Even though it looked anything but, the FX1 was a 'consumer'-grade camera marketed under the Sony™ Handycam® brand. 'Professional' features, such as balanced XLR inputs, PAL/NTSC interoperability and DVCAM recording were features of the almost-identical (and substantially more expensive) HVR-Z1P, released at the same time as the FX1.
Thus the FX1, with its 1080i recording (actually 1440x1080 with the pixels stretched out to 1920 on playback), was the first* of its kind†.
It ticked off all the nomenclature a budding videographer was looking for in the early part of the 21st century: 3CCD sensors, 'broadcast quality' video, Carl Zeiss™®© 12x optical zoom, manual zoom and focus rings, manual exposure controls, zebra and peaking. Even turning it on again today, I find it to be a well thought-out piece of design. Sure, the Blackmagic Pocket Cinema camera shits all over HDV in almost every way, but the FX1 looks and feels like a proper video camera.
Capture, conform, crash, repeat
When I first bought the camera back in 2005, my computer couldn't playback the .m2t HD video files, let alone edit them. For the first 6 months of ownership, I was shooting in HDV and capturing and editing in SD DV. When I updated my computer (and software), I could finally edit in HD, although it was slow going.
Working in HD on a consumer PC back in those days was an exercise in conforming and compromise — you couldn't edit the original video files, so it had to be transcoded into another format for editing, then transcoded back to .m2t to 'print' back out to tape. My memories of this time are of not having enough memory. Premiere Pro would constantly crash and nothing ever seemed to work as intended. But as the software and hardware got better, so did the workflow. The FX1 became the enthusiast videographer's camera of choice and could be seen all over the world in indie productions, ENG, documentaries and even on feature films. It was routinely used as a secondary camera on professional shoots and HDV became the semi-pro video format of choice (or perhaps more accurately, necessity).
At film school, I used my FX1 liberally and creatively. The irony was that all of us there wanted our digital video to look more like film. We spent hundreds of dollars and endless time and resources trying to reach this goal. We would light our scenes more like a 'professional' film; we would attach Redrock adaptors and manual focus SLR lenses to our Handycams to achieve a shallow depth of field; we would add Magic Bullet filters to our video; and we would spend hours deinterlacing our interlaced footage. Of course these days, it's trivial to achieve most of these 'filmic' looks shooting digitally, but a decade ago, it was a big deal. In my second year at film school, I shot my major production on 16mm and have been in love with the medium of film ever since.
Digital video doesn't stand still
But the digital video industry was in motion (ha). The successors to the FX1 from Sony and other manufacturers sported CMOS sensors instead of CCDs; added 24p capture for budding indie filmmakers; and introduced still image capture (and complementary mediums on which to store them).
Cameras changed, then recording media changed and then the formats changed. As tape fell out of favour as a capture medium, hard drives, mini DVDs and, later, solid state media became the main game. AVCHD largely supplanted the HDV format in the consumer space, while XDCAM became popular in Sony's accessible pro cameras (other manufacturers went their own way, like Panasonic and DVCPRO HD — the world of CODECs are an absurd alphabet soup).
At the time this was happening, I was selling camcorders on the camera shop floor. I couldn't help but feel we were living through a transitional period with the convergence of video and still functions the inevitable outcome. As technology progressed, successive recording media became difficult to source. First miniDV tapes, once plentiful and easy to obtain, were only available from one supplier — TDK — and in packs of five. Then mini DVDs — a terrible medium in every respect — could also only be sourced from TDK. Convergence was inevitable, but still a few years away from consumer reality.
Convergence: when the moving image does stand still
A few interesting products presaged the inevitable. The first one that piqued my interest was the Canon Powershot TX1, a still camera in a fascinating form which could also capture 720p video. It was around $900 and did not sell well, but it pointed to the coming convergence. Sony would follow with 720p video in a few of its own T-series cameras as well as in H-series bridge cameras. Soon HD video was common in compact cameras.
Then DSLRs followed suit, first with the Nikon D90 featuring 720p video, then in Canon's lineup. As still photography devices, DSLRs were ergonomically and technologically ill-suited to video recording, but their large imaging sensors captured video that spoke the language of 'cinema' — shallow depth of field, progressive frame rates, high-quality glass — a language consumer camcorders couldn't speak.
If these cameras marked the beginning of convergence, then the end of the beginning was the release of the Panasonic Lumix DMC-GH1. Panasonic copped a lot of flak for not including HD video capture in its first Micro Four Thirds camera, the G1. They remedied that by releasing the video-focused GH1 a few months later along with a new zoom lens — a demarcation between models which continues to this day.
Although the GH1 wasn't the first non-compact camera to feature HD video, its electronic viewfinder and form factor made it a more convincing hybrid camera than Canon and Nikon's video-enabled DSLRs. Micro Four Thirds, with its Goldilocks sensor size, all-electronic mirrorless design and almost infinite lens adaptability made it the perfect format for HD video. Today's Panasonic GH5 is probably the gold standard for hybrid flexibility, with its Four Thirds sensor capable of capturing 4K video at 60(!) fps and 20.3 megapixel stills.
Convergence: when the moving image does stand still
As technology marched on, my FX1 sat at home in its Pelican case, unused, except as a tape transport for decade-old MiniDV tapes. Its era, with its small 3CCD sensors, tape-based capture and limited, first generation 'HD' capabilities, was over.
Although it was once top of the line, its technology was just as transitional as the mini DVDs and hard drives that came after it. The FX1 was released at time before HDTV was the norm in homes — I didn't see my own FX1 video in HD on an HD screen until three years after I purchased it. Even then, it required a composite cable to view as the FX1 predates HDMI by more than a year.
I can't help but look back on this era as an exciting time not only for technology, but in my own life. It was so much fun making films as an 18 year-old on the bleeding-edge of technology. It felt like this camera made everything possible. DV had 'democratised' filmmaking and FX1 represented the bright, shiny, high-definition future.
I don't shoot much video any more except for bits and pieces of my growing family, mainly with my phone, although sometimes with my Fuji XPro2. I didn't grow up in a household with a video camera, so I want my kids to have all the moving images of their childhoods they could possibly want.
For the most part, today's still cameras are very effective video cameras (and vice-versa). In video quality terms, my iPhone exceeds my venerable relic of an FX1. Maybe this saturation means 'video' doesn't hold as much currency as it once did. Maybe it was better when a device — a dedicated video camera — acted as a barrier to filmmaking. Just like with photography, more thought had to go into making a film when the technology wasn't just in your pocket. I don't know, maybe I'm just being a curmudgeon.
All I know is if I still can't tell the story with my 425 autofocus points, 3D matrix metering, 42.5 megapixels AND in-built 4K recording, that's on me — the crappy storyteller.