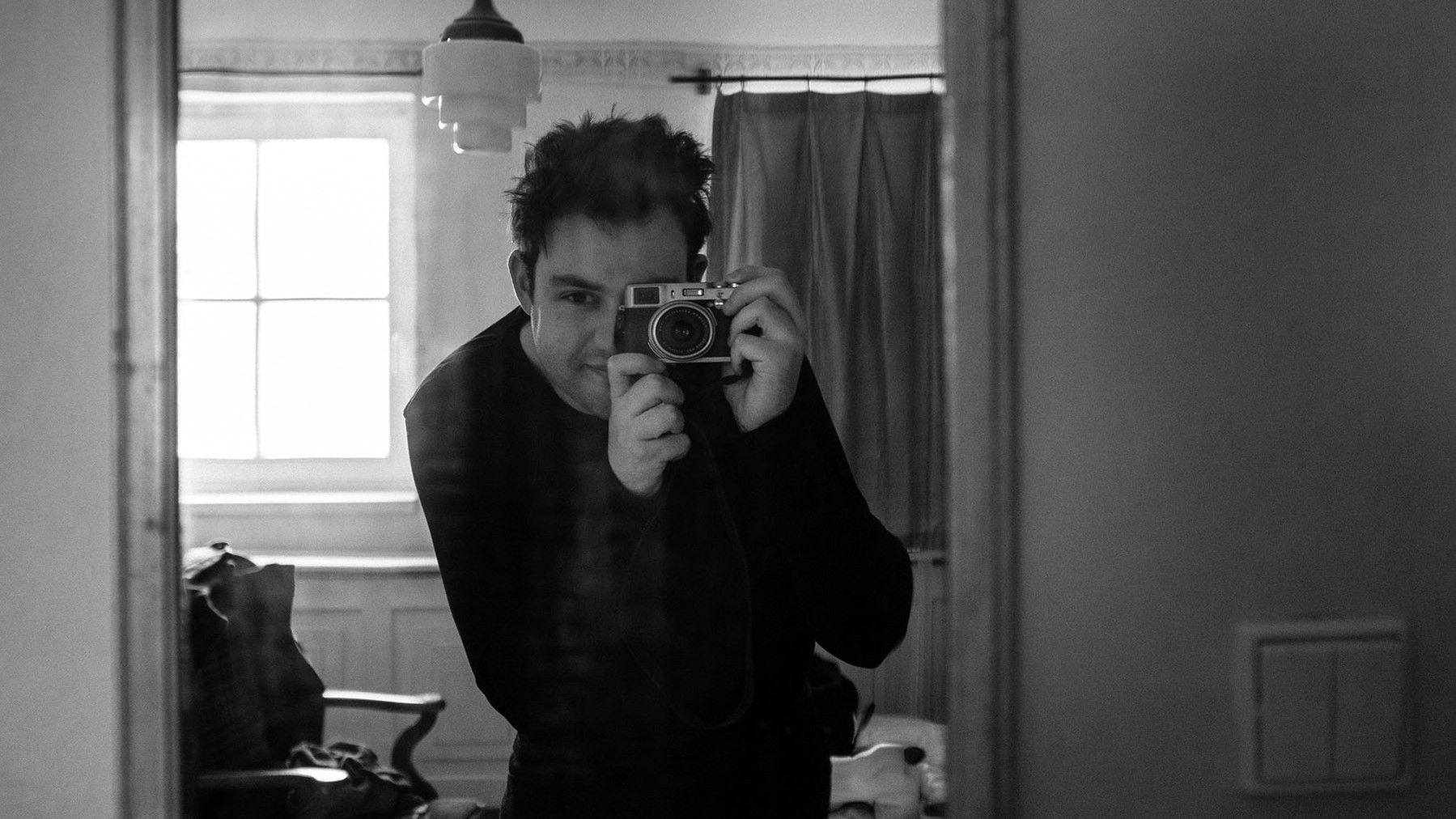 September 2010. I was waiting in Monash Univerisity's iconic Rotunda for a lecture ('daring architecture with great presence'—now demolished). As was so often the case, however, something outside of my studies had my complete attention. Rumours had been circulating online that Fujifilm, the photographic journeyman of the digital era, was about to announce something big at the Photokina trade show.
I can't remember if I'd been pressing CMD+R on my MacBook Pro waiting for the announcement to be made, or whether I had just arrived at uni anxious to read the news, either way, it was on my screen: Fujifilm unveils FinePix X100 large-sensor compact.
Hnnmmmg…what a beautiful thing. Its silver top plate, large viewfinder window and black leatherette body clearly drew inspiration from the 35mm rangefinders of the past. But this was the digital camera so many modern photographers had been waiting for: a compact camera with a large sensor, bright lens and an optical viewfinder. The FinePix X100 wasn't the first camera to attempt this at least some of this concept (Sigma DP1; Leica X1) but it was—on paper anyway—the most complete: 12 megapixels, APS-C sensor, 35mm equivalent f/2.0 lens, hybrid optical/electronic viewfinder…whatever the heck that meant. If it made it into production—a reasonable caveat given Fujifilm's mediocre digital camera output to this point—it was the real deal.
There and then, sitting in the dim hub of the Monash Rotunda (brown bricks, dark tiled floor, brown bench, little natural light), I knew I had to have this camera in my life.
November 2011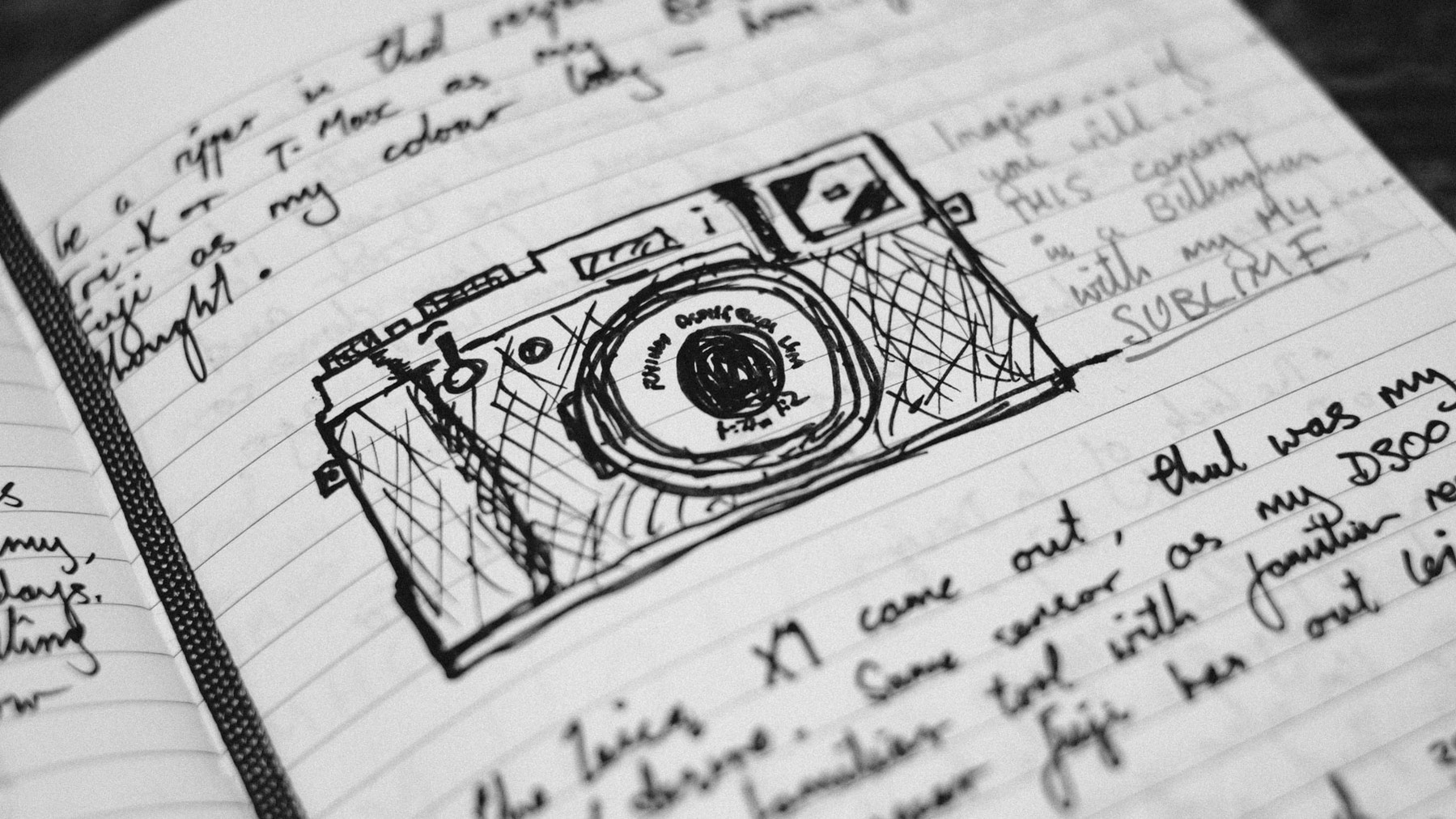 Exams at Monash. Those of you who went to Monash know the pain of travelling to Caulfield Racecourse, not for a day of suited-up drinking but for hours of assessments and writing. The harshest irony would be sitting an exam at Caulfield Racecourse on the Melbourne Cup 'holiday', something I had to endure two out of my three years at Monash.
Like the year prior, my mind was elsewhere and not on my imminent ATS1904: Reading the City exam. At the end of this semester, Maddie and I would be travelling to Europe and I really really wanted a new piece of kit to stick into my camera bag. The FinePix X100 had been on the market now for about 8 months, though wasn't available in huge numbers anywhere. The catastrophic tsunami in March 2011 had, among other much more important things, temporarily shut down production at Fujifilm's plant in Sendai (beware: the below YouTube video is out-of-control awesome).
The X100 had generated a huge amount of buzz on its launch. It stole the show at Photokina 2010, relegating the other big announcements of the event—Nikon D7000, Canon EOS 60D, Pentax K-5 et al—to also-ran status. Production delays combined with this buzz had made stock of the X100 scarce for much of 2011.
Once on the market, initial reviews for the camera were somewhat lacklustre. In the main, reviewers loved the concept but were disappointed by the X100's many quirks and lethargic operation. Firmware updates throughout the first year of the camera's life improved its performance markedly. As Andy Westlake on DPreview put it in their review of the camera:
"…despite all of its manifest flaws, the X100 is a camera that's become a firm favorite in the dpreview offices … a camera that begs you to pick it up and take it out with you, and the image quality it returns at the end of the day is nothing short of superb … it just takes wonderful pictures, time after time."
And this is where I found myself, wanting to pick it up and take it out with me. I wasn't a speed demon photographer, I was a Leica rangefinder user. I well-knew what 'slow' and 'idiosyncratic' meant when it came to camera operation and I didn't mind a bit.
By the end of November, I had placed an order for an X100 at my workplace, JB Hi-Fi. When I got the call to tell me it had arrived, my colleague told me she hadn't seen me this giddy before. She was right, I was giddy and I'd probably never be that giddy again at work—except for the time there was so much rain that part of the ceiling collapsed and we had to shut the store. That was great.
January 2012, Munich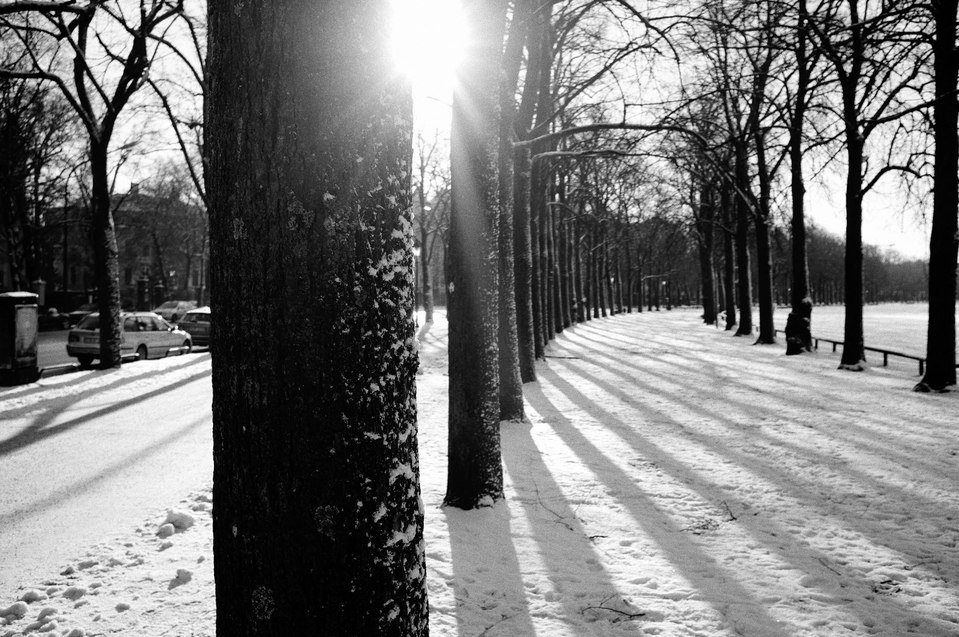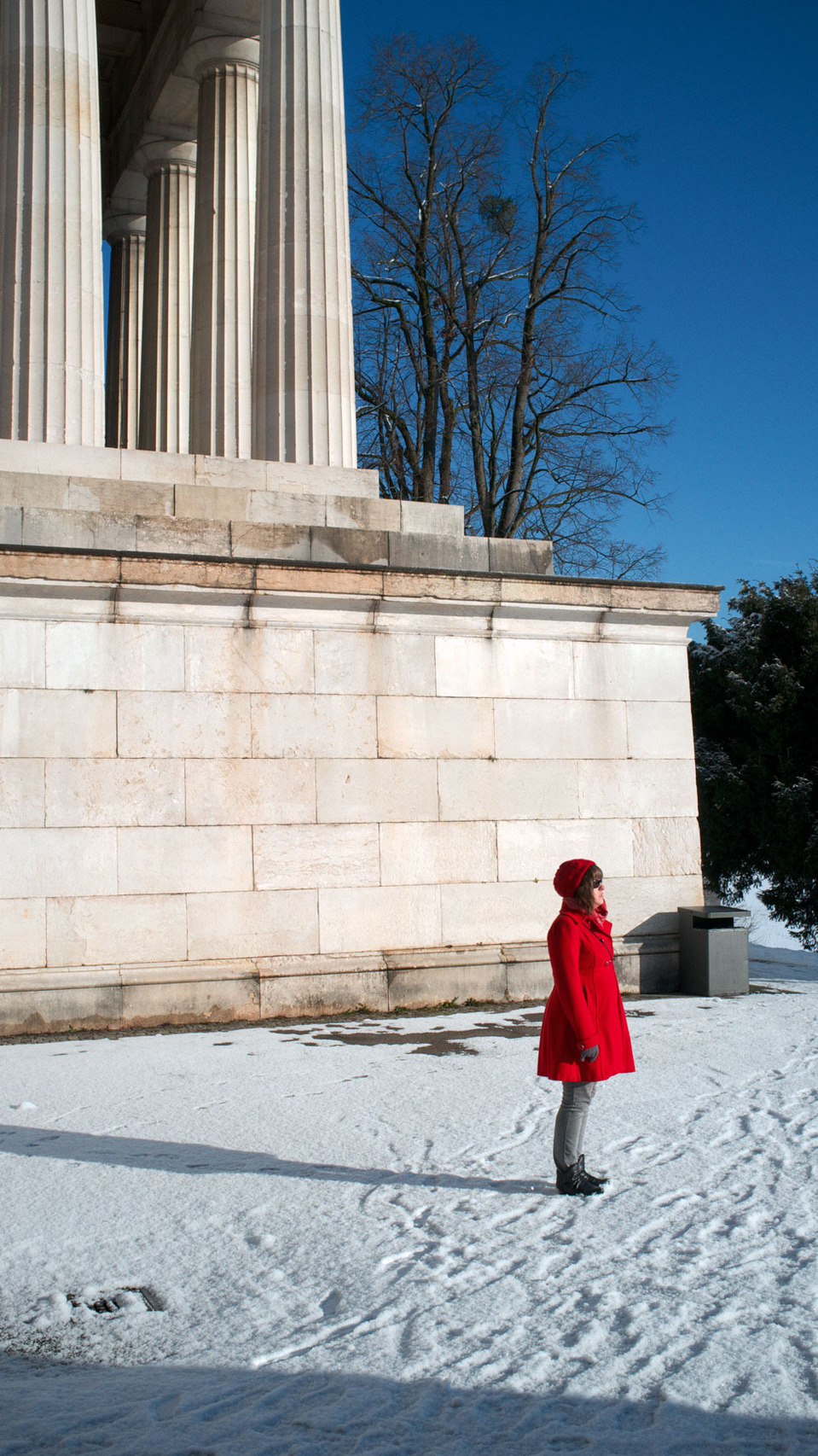 It was a cold day—bloody cold. But for the first time in a couple of days, the sky was clear. Two days' worth of snow lain on the ground, providing a picturesque—if blinding—backdrop to our European holiday. Maddie and I had walked from our hostel early in the morning to the Theresienwiese, a large open park known to many as the home of Oktoberfest. On this cold day in January, however, it was a dazzling sea of white. People were out braving the cold, though if you're a Münchner, it was probably a comparatively mild day. We wandered with no hurry, heading towards the ginormous statue of Bavaria.
It was quite the place to shoot with the X100. I was able to make use of the in-built ND filter to shoot at reasonable apertures; the viewfinders—both optical and electronic—made it easy to compose and shoot in challenging conditions.
Nearby was the Deutsches Museum Verkehrszentrum, the famous science and technology museum's transport-focused branch. That got me as giddy as the day I picked up the X100. Fun fact: the halls that house the Verkehrszentrum are where the premiere performance of Mahler's 8th Symphonie ('Symphonie Ein Tausend') took place. Inside and outside; sun or snow, the X100 was handling everything with aplomb.
March 2014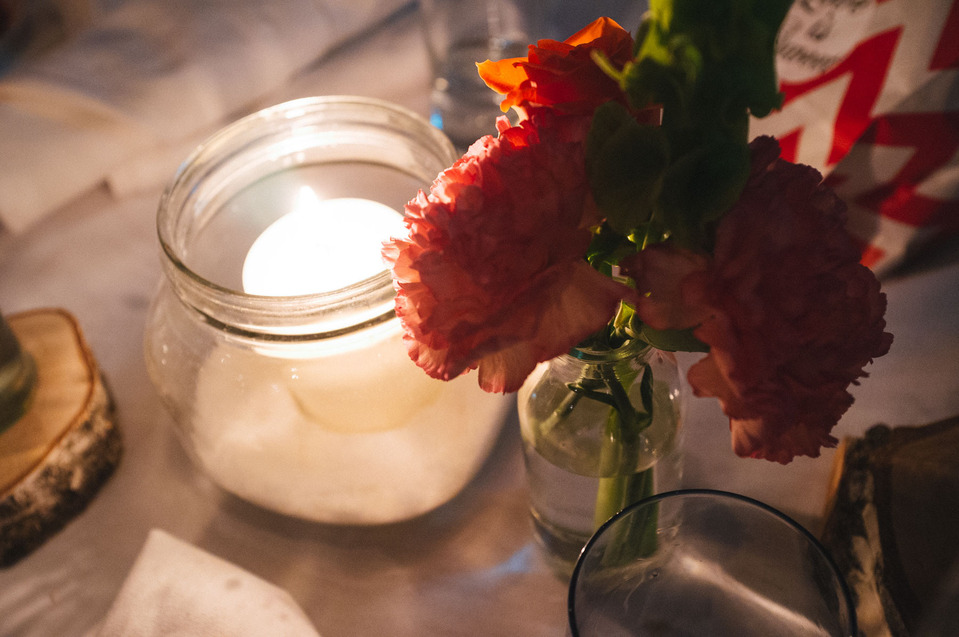 Maddie and I both said 'I do' at the appropriate times and, with the filing of some paperwork and a party among friends, found ourselves married. Naturally, we had a great photographer there, but I couldn't be without my own camera. That job fell to my Leica M4 and my now-venerable FinePix X100.
Our 'official' photos were great, but the snaps I took with the X100 are like the mortar between bricks—little snippets between the main events of this very memorable day. To me, they are as much a part of the day as any standard portrait.
April 2014
Day in, day out, my commute took me from our house in Croydon to the city. Day in, day out, my Billingham came with me, holding my Leica and my X100. They were little sparks in otherwise long and boring days. This particular day was cold, wet and unusually dark for an April evening. My train approached Mitcham station, recently rebuilt down in a deep trench. I spied the perfect combination of window condensation, rain droplets and backlighting. I snapped the scene with my X100. It remains one of my favourite photos.
November 2015
At some ungodly hour in the morning, I am rocked from my very uncomfortable slumber on the birthing suite's folding chair/bed thing. To be honest, my recollections of this time are mostly a blur, but I knew I had to grab my camera and get it ready. Naturally, that camera was my X100.
I'm not sure how much time had elapsed, but between doctors and nurses and Maddie's screams, a little life came into being.
It's a boy.
September 2017
It's my birthday. A milestone ending in a zero. Maddie wanted to get me something big. Something significant. But she didn't want to get the wrong thing so she confessed she had been looking to get me a Fujifilm X-Pro2—she just wasn't sure which lens to get. For me, there was only one choice: to replicate the qualities of the OG X100 with an XF 23mm f/2 lens.
When I went to pick up the X-Pro2, I was giddy again. But I also knew that while this new camera was technically far more capable, it was still just a camera. It was a tool to capture the photographer's vision and was no more capable of creating that vision than a hammer was of designing a house.
For the first time, the X100 would be staying at home while I went travelling, this time to London. But every time I pull out the X-Pro2 is a reminder that without the huge gamble Fujifilm took on the original X100, there would be no X 'series'.
September 2020
These are but some of the moments the X100's been on-hand for. There's our honeymoon, my graduation (when I finally stopped fawning over the X100, then the X-Pro1) and much more.
It's hard to believe it has been 10 years. It's difficult to process the transformation the photographic industry has gone through over that time … an industry that's not out of the woods yet.
Fujifilm refined the X100 concept with the X100S and its successors (dropping the venerable FinePix name). But even new models would not signal the end of the line for the first generation. In 2013, Fujifilm released a substantial firmware update for the OG X100—months after the original camera had been discontinued.
Designated 'v2.0', the new firmware dramatically improved the performance of the camera, increasing autofocus speed, improving manual focusing and shortening start-up time. In short, it addressed virtually every issue raised by reviewers on release. This firmware gave the 3-year-old camera a real shot in the arm and I felt, anyway, it was like having a whole new camera.
Fujifilm built not only their product credibility on the X100 but their service and support reputation as well. They are now well-known as a company that practices 'kaizen' (改善), or continuous improvement, keeping older products updated well-past their use-by date. It has made a lot of people Fujifilm fans over the past decade.
My X100 is still with me. I try to keep the battery charged and a memory card in it for those moments when it's the closest thing to hand. My kids seem to be always drawn to the camera and I hope it's the X100 they get to have some fun with when they're old enough. These days, its specs and operation are dated, but that doesn't stop it, as Andy Westlake at DPReview put it in that first review, taking "wonderful pictures, time after time"—even in 2020.
Here's to another decade (and more) of the X100 and its successors.
Further reading
Fujifilm X100 catalogue (PDF), Fujifilm Korea, 2011

Fujifilm X Series 10th Anniversary Celebration (YouTube—via FujiRumors), Fujifilm, 2020
FinePix X100 microsite, Fujifilm, 2011 (archived from the original)
FinePix X100 Photokina announcement video, Fujifilm, 2010